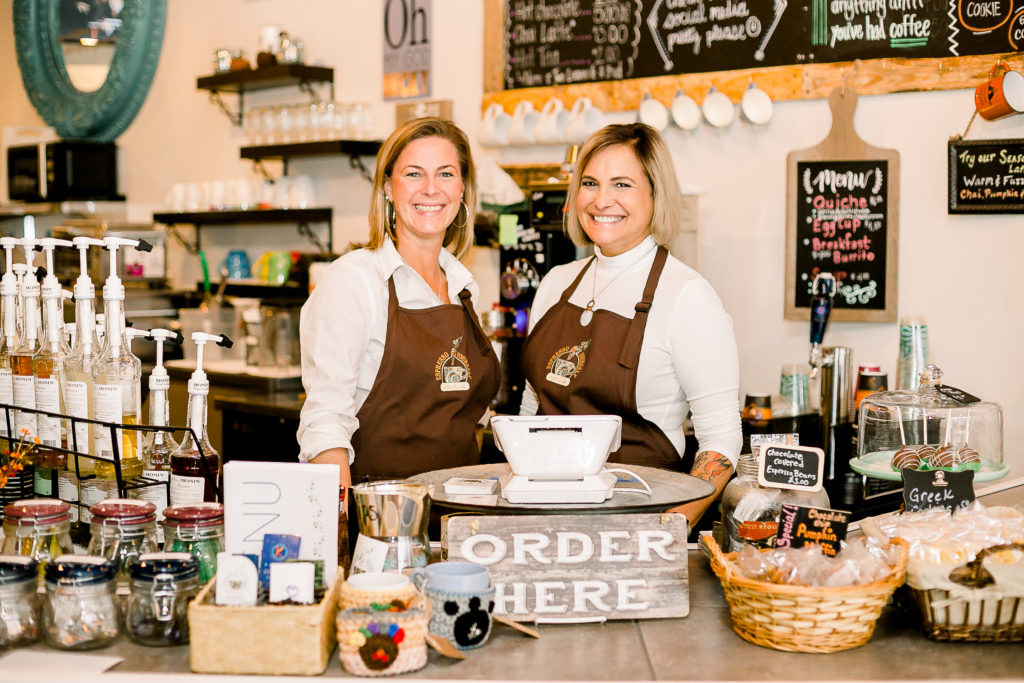 Julie Karagiannis and Tracy Calabro, otherwise known by their maiden name as "The Fox Sisters", have had a dream of opening a coffee shop for many years. Their dream is to provide a friendly, inviting and comfortable environment for anyone seeking a place to grab a cup on their way to work each day, sit and relax with a good friend or book, or even hold a business meeting. Their goal is to serve each an every customer with the friendliness of your best friend!
Meet The Fox Sisters
Julie Karagiannis
Chief Happiness Junkie #1
Hello!  I'm Julie.  Or Jules.  Or JuJu.  It depends on how long you have known me what you call me, or what time of the day or my mood what name I call myself, but I answer to them all.
My family, my friends, my pets and my coffee, not always in the same order, are  literally the most important things to me.  Some days I know all too well that I should always have a cup of coffee (or two) before ever even thinking of a conversation with any of the rest of those favorite things.My husband Dino and daughters Mary and Eleni are the center of my world (sadly only one takes after me and enjoys the all wonders that a cup of coffee has to offer the universe.)  Together, along with my wonderful son in law Nick, successfully operate one of the oldest steak houses in St. Louis, The Tenderloin Room.  I am very proud, inspired and in awe of them daily.
I am blessed with some of the most wonderful friends on.the.planet.  I am happiest when I am surrounded by friends…old and new… which is one of the underlying reasons for my desire to open a coffee shop.  A place where friends can gather and enjoy just being together for a while.
Not everyone is lucky enough to have a family member as a best friend, or best friend as a family member, but I am.  Tracy is my sister, my business partner (and partner in crime), my confidant…the Rachel to my Phoebe, the laces to my sneakers.  She is always right, and I am left of center.  She centers me and for that I am grateful beyond my wildest dreams.
My pets are the best.  Your pets are the best. Our pets are unconditional love, and that is simply the best.
I have been having a love affair with coffee for years.  Similar to progressing from Boone's Farm Tickle Pink to a beautiful full bodied Cabernet, my love for good coffee has matured as well.  I love learning about all things coffee and I still have a lot of learning to do… what better way to learn than spending my days surrounded by friends and family in a welcoming environment like Espresso Yourself Coffee and Café!
Tracy Calabro
Chief Happiness Junkie #2
Like Jules, I answer to a number of names as well…. Tracy, Trace, Mom, Queen Bee….and several others that are just not appropriate to state here.
I haven't always appreciated great coffee. Like many, I started drinking coffee when I was in college and needed it for those late night cramming sessions. I continued drinking coffee as a police wife waiting for my PO to come home after a late shift and as a sleep deprived mother. When I look back now, I was really drinking creamer with a smidge of coffee. I eventually cut out the creamer but replaced it with loads of sweetener. It wasn't until just a few years ago that Jules introduced me to what REALLY good coffee tastes like….and I'll even drink it straight up black!
My husband, Joe, and I have 4 amazing children. They truly are my inspiration! They are the reason I wake up in the morning and the reason I live and breathe every day. They have been such wonderful support through this process of making dream become a reality.
Jules….my sis….my best friend….my partner. There are no two siblings closer than we are! We really are the perfect combination of business partners! She's the creative one and I'm the logical one. She's butterfly and I'm the bee (feel free to ask either one of us to explain that one!)
Jules and I talked about opening a coffee shop for several years. In early 2018 we decided it was time to make it happen! I won't say it was an easy process, but the way that everything seemed to just fallen into place told us that it was meant to be! We are just so very excited we were able to make this dream become reality. We welcome family, friends…and strangers who will become friends….to our little piece of heaven at the corner of Devonshire & Macklind.