Jan
22
Wed
Paint Succulents with Coffee
Jan 22 @ 6:00 pm – 8:00 pm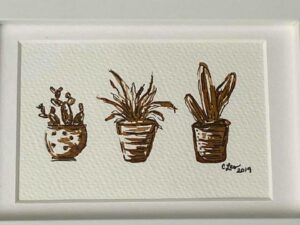 Do you have an obsession with succulents AND also love to drink coffee? Well…let's combine these two loves and paint succulents with coffee. This is a workshop for ALL levels of experience. I will teach you how to draw the succulent plants as well as teach you how to watercolor paint with coffee. You will leave with a painting or two that smells warm and cozy!
Ages 18+
$35 all supplies provided
Limited to 12 people
Instructor: Carolyn Lewis
Payment reserves your spot. No walk ins. Payment and registration made through https://www.carolynlewisdesigns.com/workshops/painting-succulents-with-coffee-1
Jan
26
Sun
Kids & I Wonderland Workshop
Jan 26 @ 1:00 pm – 2:00 pm
Let's create a 3D Winter Wonderland using a variety of art materials! We will paint, cut, glue, and even sprinkle some salt to add a magical effect!
Ages 4 +
$15 per couple (kid plus adult)
Limited to 8 kids
Instructor: Carolyn Lewis
Must have paid reservations to attend. No walk ins. Payment made through https://www.carolynlewisdesigns.com/workshops/kids-amp-i-winter-wonderland-workshop