When:
December 8, 2019 @ 1:00 pm – 2:00 pm
2019-12-08T13:00:00-06:00
2019-12-08T14:00:00-06:00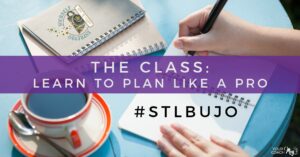 It's time, friend, to FINALLY start the last planning system you will ever need!
Are you aching to have dot grid journaling simplified for you and explained in such a way so that you can finally get started already?
Are you mindful, sweet friend….. or is your mind just… full?
If you answered "YES!" to either of those questions, this workshop was designed just for you!
Known as an analog system in a digital world, dot grid journals, a.k.a, "BuJos", are quickly rising in popularity as a solution to organize our busy minds. Being organized and having everything you need in one place frees your mind and helps you focus on new pursuits. This is a totally customizable system where productivity meets mindfulness and creativity meets accountability. And it literally is the only system that has ever worked for me and many of my coaching clients.
These dot grid journals capture lists, goals, thoughts, and ultimately provide the comfort that nothing is forgotten.
The flexibility of the dot grid makes it a perfect solution for all. From the uber-creative to the minimalist, from busy parents to executives, from the artful wanderers and the in-between, the system is personally adaptable and the possibilities are absolutely endless!
Common dot grid journaling elements include pages to:
*Track daily to-dos, appointments and tasks
*Keep a calendar (daily, monthly, future)
*Capture your thoughts through journaling
*Keep track of birthdays, exercise schedules, bills and other important dates or deadlines
*Create lists of books to read, quotes you love, places you want to visit and other ideals
*Manage goal/project pages to track progress, milestones and successes
*Track desired habits
Join me and an intimate group of budding bujo-ists to make this an afternoon to connect and engage in stimulating conversation about getting organized and being inspired for positive change.
STAY for 2 more hours and join us for our monthly FREE #STLBUJO meet-up group! Learn more about this event here:
https://www.facebook.com/events/467674837432376/