When:
December 1, 2019 @ 11:00 am – 4:00 pm
2019-12-01T11:00:00-06:00
2019-12-01T16:00:00-06:00
Where:
Palladium St. Louis
1414 Park Avenue
St. Louis
MO 63104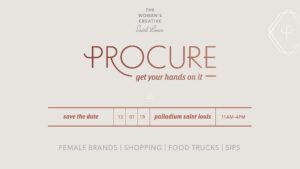 proᐧcure / prŌ'kyŏŏr⁠: to obtain something with care or effort ⁠
⁠
new name | new look | same place | same quarterly marketplace
COME AND GET YOUR HANDS ON IT!
The best of all that is handmade, curated and designed from local female brands in one place, four times a year.⁠ That is what you can expect from us with PROCURE.
#SHOPSMALL with us on this Small Business weekend and help us support the incredible businesses owners of our city! Bring a friend, meet us at 1414 Park Ave., grab a drink at the bar, some food from a truck, and enjoy shopping our 50+ female brands while listening to beats by DJ Nico Marie. Trust us, this will be your one stop shop for all your holiday shopping.
VENDOR LINEUP
Golden Gems | Lux and Nyx | Route | SoLayne Designs | Argaman&Defiance |Applettree Chic Boutique | Artifact | Beltshazzar Jewels | Little Wander Shop | Resident In Wander | Civil Alchemy | Katherine Burner | La Femme Rebelle Clothing | Lass & Laddie | Modmade Market | The Golden Fig | BluArrow Designs | LARK Skin Co. | Soaplife360 | Alpacas of Troy | New Spin on Tradition | Place Value Pottery | Craft Cookie Co. | Momma Boogies Small Batch Cakery | Olde Town Spice Shoppe | Patty's Cheesecakes | Forest & Meadow Apothecary | Alma Moon Co. | Saint Louis Succulents | AMONAE | Collections by Joya | Mahnal | Motek Jewelry Collection | The Well Oiled Bead | Violet Gypsy | Theresa Joy Studio | Aurelia Apothecary | Glow Candle Co. | Hillary J Events | Little Neighbors | Paper Baristas | Praxis Design Studio | Curly Girl Design | Mod Co. | Rupert & Co. | Sprouted Designs |Series Six | Bee In The Bucket | Espresso Yourself Coffee and Cafe | LoKey Designs | Damn Girl | Simply Chic Jewelry | Summer Fling
These marketplace events for female brands have become an incredible celebration of ALL different kinds of women owned businesses, and we are so excited to roll out the new face of them for our December 1 sale!
Our goal with all of our events is to create a unique, diverse, welcoming and open experience for the ENTIRE community. Shopping small, local AND woman owned businesses builds up our entire community. We know the talent in this city is for real, so let's celebrate that through an amazing event!
— FOR SPONSORSHIP INFO EMAIL: sponsorships@thewomenscreative.com
Sponsorship Menu:
https://thewomenscreative.com/sponsorship-menu